What is a public consultation?
We understand that many people may never even have heard of a public consultation, so here's a very simple breakdown of its two components:
It's public. When governments pass legislation that will have a significant impact upon how a society functions, it's not unusual for them to ask the public what they think. They formulate some ideas and they throw it open to you and me, wanting to know if we think they've got the right ideas or not. By being ​

'

public' it really is just that: the chance for anyone and everyone to feed into what the legislation should look like.
It's a consultation. Produced in an electronic form online which can be printed, it's a set of questions that frame the legislation. This is the important bit: as it's a consultation, that means what you say can't simply be dismissed or ignored: your voice counts. But be aware that the government already have an idea of what they want from it, so a consultation will be worded in a particular way; they will want to lead you towards agreeing with their assessment.
What is this public consultation?
For this consultation, the same rules apply as outlined above. When the Northern Ireland (Executive Formation) Act became law on October 22, it drastically liberalised abortion laws in Northern Ireland. However, the law itself was vague and didn't specify the particulars of how this would work in practice, leaving many vital questions unanswered such as: who will be legally able to provide abortion services; what will the limits be for certain circumstances; what protections will there be for doctors and nurses who don't wish to provide abortions, and many more. These are just some of the areas that the government is consulting the public on.
The consultation document is 42 pages and covers a wide variety of topics. It opened on November 4 and closes at 11:45pm on Monday December 16. Any submissions made after this time will not be considered. It is a physical document that can be downloaded from this link:
There are just a few things we want to highlight to you:
Every voice matters. When you send in a response to a government consultation, they are legally obliged to read it. Responding to a consultation isn't exciting, but let this thought help you through: a civil servant at the Northern Ireland Office (

NIO

) will read what you write, and your response will shape how they are able to implement abortion services in Northern Ireland. By responding to this consultation you're ensuring your voice will be heard.
Your response is physically counted. Groups in support of abortion will be responding to this consultation. If we don't take the time to respond, only their voices will be heard which will encourage an extreme abortion régime. The more responses we send, the more chance we have of shaping the implementation of this legislation. We can help produce protections for doctors and nurses who refuse to take part in abortions; we can help to ensure that expectant mothers are still offered a genuine opportunity to choose life.
Group responses are counted as one. The reason we're encouraging people to respond in their own manner, with the help of our guidance, is that a standard group response such as an open letter is counted as one submission on behalf of one group. So, if the Evangelical Alliance were to provide a written response and gather

5000

signatures at the bottom of it, it would still only count as

1

to the

NIO

. This is why responding in your own, unique voice is crucial to this process.
We need you!
The fight for the unborn didn't end on October 22. The Northern Ireland (Executive Formation) Act did become law, but the way it will be implemented has not yet been decided. We can still seek to make sure that this legislation does not harm women and the unborn as much as it might do. And we're here to resource you in that, so here are the ways you can get involved:
Newtonbreda Baptist Church, Thursday November

28

10

.

30

−

12

.

30

; West Church Ballymena, Thursday December

5

10

.

30

−

12

.

30

. These are events for Church and other leaders where we will talk you through how to use the resources we're providing. By the end of this meeting you'll be equipped to go and tell your church/​small group/​friendship group how to make their response.
Gather your friends or small group. We suggest that a great way to get through this is to meet with other people. See our consultation survival steps below for the essentials we think you'll need! So get yourself together with friends, family, small groups – whoever you like, and walk through our guidance together. Get it done in an hour and have a good time before and after. It's always better to do it with other people, so get a date in the diary for your group now.
Live in our living room. On Monday December

9

we're going to do something a bit different. The whole of the Evangelical Alliance Northern Ireland team are going to meet together in one of our living rooms and fill out this consultation response. We are going to Facebook Live this event (follow us here), so please join us and fill out the response with us. We're going to have mulled wine and mince pies – we suggest you do the same!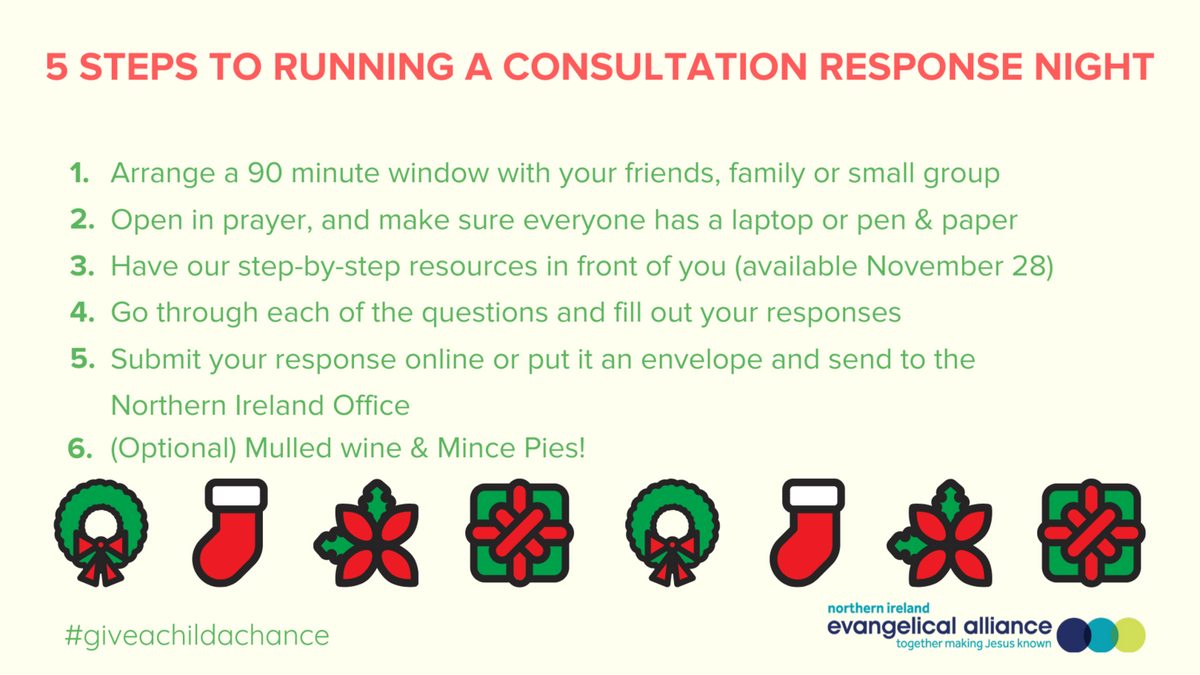 The fight to protect the unborn isn't over.
You have a chance to make your voice heard.
Join us on November 28 or December 5 and we'll resource you to lead your church, your small group, your friendship group in responding to the government consultation on abortion.
Make your voice heard and give a child a chance this Christmas.