Could there be more to the Christmas story than meets the eye?
We all love the nativity story, but has it become so familiar that we stop hearing it? This year, a detective mouse is on the case and provides a different perspective on the story that changed everything.
The Mystery of the New Noisy Neighbour is based on an inquisitive mouse who slowly discovers the big picture of Jesus's birth. It's available as a children's booklet, video and a script for an instant nativity that you can stage in your community.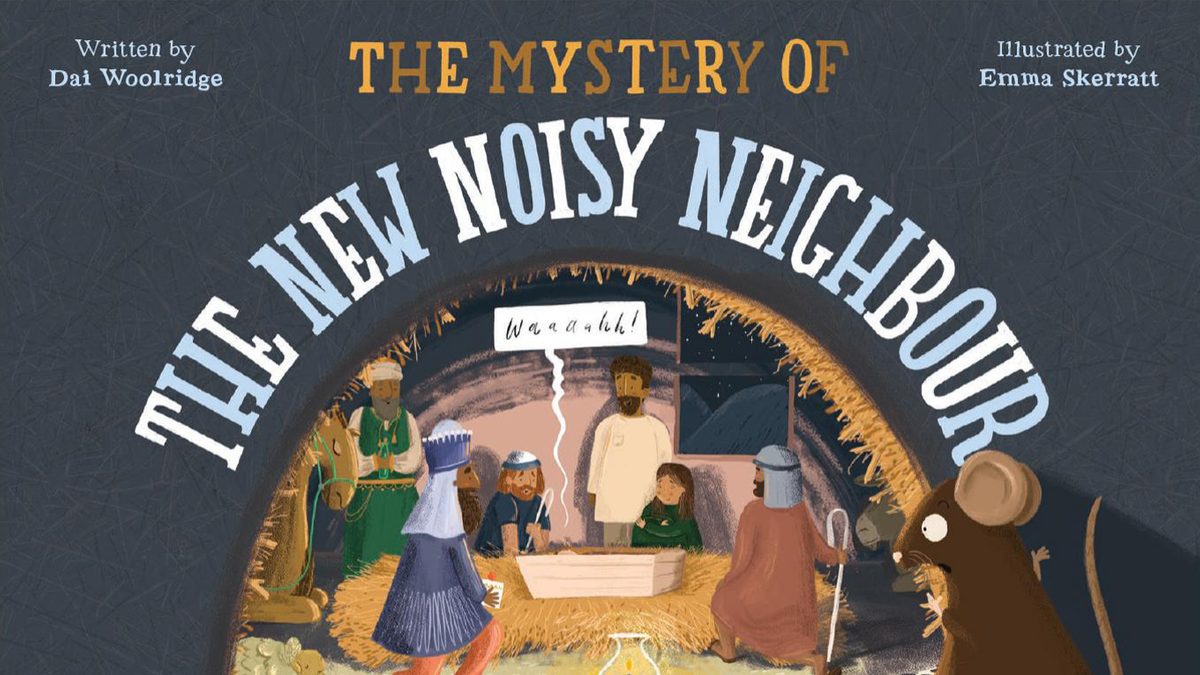 Last year, Bible Society's Christmas resources was based on a journey (The very greatest Journey), the year before it was a poem (The Well good news of Christmas) and this year it's a mystery solving adventure. What ever will they come up with next? Here we hear from Dai Woolridge, creative development specialist at Bible Society, who amongst other things, has the challenge of coming up with this stuff.

"For the last couple of years, I've had the privilege of writing the children's stories for Christmas. It's an honour to try and communicate the glorious truth of who Jesus is and how significant his birth was, in a way that is faithful, fun and accessible for young families. That said, telling the same timeless story in a fresh way certainly brings its challenges.
"For a start, maybe we feel like we know the story before we even read it? We roll the nativity plays out every year with an extra supply of paper crowns and tea-towels, but if we're so familiar with the story, maybe we don't fully engage with what actually happened? Maybe we end up adding to the story, or changing it in some way without even realising it? (Were there really three wise men, or were there just three gifts?) Then there's ​'donkey gate'. Let me be clear, I have no beef with the donkey as you'll no doubt find out. Neither do I take issue with the traditional picture of Christmas, but let's not check out of the story. If we switch off when Angel Gabriel visits and just tune back in for the final scene at the ​'stable' – the arrival of Immanuel doesn't land because we're just on auto pilot.
"How differently would we engage in the story if we came to it with fresh eyes? What if we met Jesus at Christmas for the very first time? And that's where this year's Christmas story comes in.
"The idea of The Mystery of the New Noisy Neighbour began with a love for characters. As I was creatively doodling one day, I came up with the concept of re-telling the nativity story through the lens of a character. As I scribbled and jotted, I started thinking; ​'What if the story unfolded through the lens of an eye witness who was at the scene of Jesus' birth?' And given that Jesus was born next to a feeding trough, what better eye witness than an animal eh! (Granted, you have to suspend your disbelief with this story…I don't think you'll find ​'a mystery-solving detective mouse, who was quite partial to cheese' in the original Greek manuscripts!)
"But as I further dipped into this train of thought, I twigged that traditionally we associate an animal with each character group in the story. It also dawned on me, that we can learn a key message of truth about Jesus that is unique to each character. Mary learns that He'll be Immanuel, the Shepherds hear that He will be Rescuer and the Magi discover that He's King. And so, with the help of three furry or fluffy friends (Donkey, Sheep and Camel), Mouse pieces together three great truths to discover who the new noisy neighbour really is, the greatest one who ever lived.
"My heart with this story is that families step into the shoes of our little detective friend and discover Jesus just as Mouse does, in a new and profound way. May we learn to encounter the Christmas story like a mystery-solving mouse and find that the little guy in the manger is not just noisy, he's the greatest one who ever lived."

Find out more about The Mystery of the New Noisy Neighbour or it's available from bible​so​ci​ety​.org​.uk. The video and script for the instant nativity are free and there's just a small charge for the booklet. Also available as part of their Christmas resources is a new carol booklet featuring 12 well-know carols. And their short booklet, Just Hay in the Manger? takes you behind the scenes of the nativity play showing what it was like when Jesus was born and what it could mean for you.
"I think what the Bible Society do is brilliant. The nativity resources provided an excellent way to connect with our local schools, families, and those that came to the nativity service."